As of September 10, 2020, City Planning has been placing signs in the neighborhood regarding installation of Verizon 5G network towers in our neighborhood!
As some of you may already be aware, a cabling project for this was ram-rodded through the neighborhood earlier this year, tearing up lawns and leaving a blight of huge, ugly service boxes right in the middle of some residents front lawns. You had no say in this matter, and weren't even warned. Now they are doing the same with these 5G wireless towers.
The city is holding a public hearing on this matter on October 6th at 1:00PM. I am urging ALL residents to participate in this meeting and oppose this ridiculous over-reach. The meeting will be held online rather than in person. This is a big deal, especially if YOUR lawn gets picked as a tower location.
MAP of proposed Tower sites (click for PDF)
Meeting Information (click for PDF)
Please read the PDF for detailed information on how to attend the meeting. If you are unable to attend, you can guarantee that your comments are entered into record by emailing those concerns to DMDpubliccomments@indy.gov, and refer to case# 2020-DV1-051 as your email subject line. Generally speaking, more productive issues are those concerning property values and safety. Although I do not share the belief that 5G poses health risks, many others do. I simply do not want this eyesore and blight infecting my neighborhood any further. I hope you feel the same and get involved, we need ALL the voices we can get to oppose this. Thank you for taking the time to read this and participate in making your community better.
Also, please read Charlies update below
Are you ready for 5G? It is indeed coming and may be in your front yard (mine too). As time passes, there will be orange signs like the one pictured below on the exact location Verizon is intending to locate a column (tower or pole). There is a report on Channel 6 regarding these installations complete with pictures (the video that the link takes you to has to have the volume turned up since it opens with the volume off). A warning, the columns that are being installed in one neighborhood will not necessarily be the style that is installed in Hill Valley.
If you would like a lot more information, this channel 6 page has a lot more.
-------------------------------------------------------------------------------------------------------------------------------------------------------------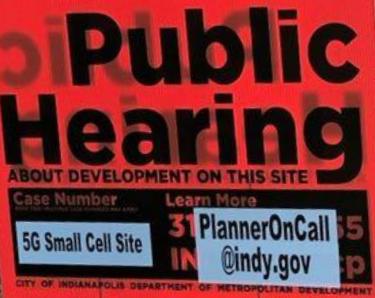 5G Small Cell Variance Hearings
Variance of Development Standards petitions have been filed with our office by a cellular company regarding 5G poles in various locations. Adjacent property owners and registered neighborhood organizations should be receiving a Notice of Public Hearing in the mailand an orange sign will be placed at the exact location of each proposed pole.
The public notice will have information about the hearing, the applicants contact information, and a Current Planning Staff Planner contact on the back side. The orange sign is only a notice for a hearing, no decision has been made at this time. There will be a public hearing as indicated in the mailed public notice, where you will have an opportunity to voice your opinion in support or opposition of the petition request. Or, you may submit a written statement by email to DMDpubliccomments@indy.gov, which should include the approximate address of the sign location. All written comments submitted 24 hours prior to a hearing is guaranteed in the record for review. If you do not know the case number or the Planner assigned to the case, please email planneroncall@indy.gov with the address of the proposed 5G pole.
The Board of Zoning Appeals public hearing will be online due to the current COVID pandemic conditions Details on how to join the online hearing will be located at the bottom of the public notice on the second page. Public hearing information and Staff recommendations will be posted the Thursday prior to the scheduled hearing. Staff Reports and the Agenda will be posted on our website: https://www.indy.gov/activity/board-of-zoning-appeals-2020-staff-reports-and-hearing-results.